Jim Corbett National Park is an abode to over 250 Resorts (with lots of Riverside Resorts in Jim Corbett) in a mosaic-like landscape of mountains, riverside, grassland & dense Sal forest. Each resort is thoughtfully crafted and selecting one that guarantees the true luxury of staying in India's oldest National Park, is a tedious task in itself.
Know the best riverside resorts in Jim Corbett
With so many options in riverside resorts in jim corbett, you might wonder about the services & experiences offered in each resort. Let us solve this instantly for you and present Atulya Hospitality approved list of resorts that you can consider for your next trip to Jim Corbett.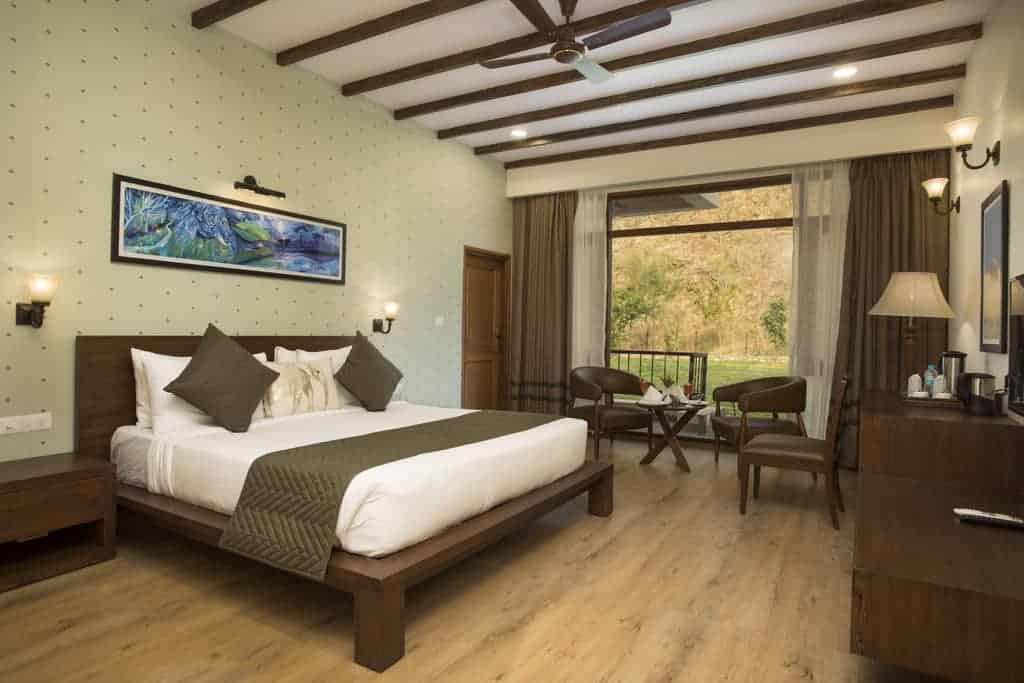 Corbett River Creek Resort & Spa, located in the Northern Periphery of Jim Corbett National Park, is one of the Riverside resorts in Jim Corbett, one of the best, offering affordable luxury. Truly nestled in the lap of nature, Corbett River Creek Resort & Spa is situated on the bank of Ramganga River, and is surrounded by thick forest & hills in the Marchula area.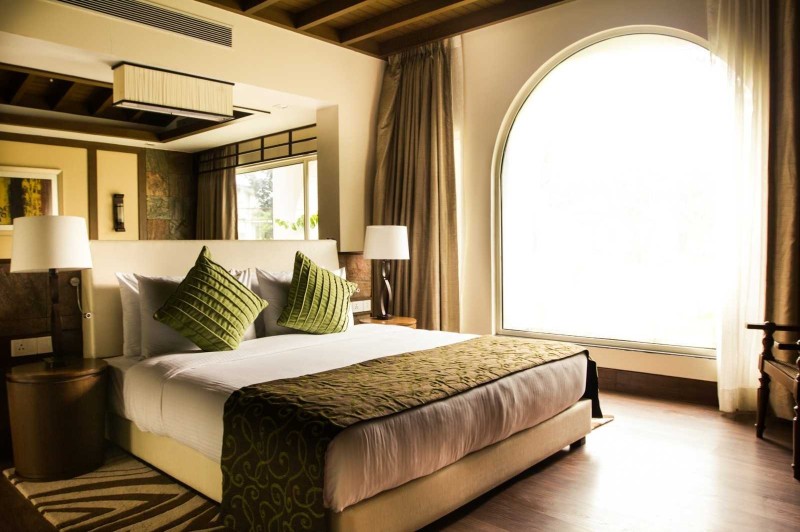 The resort combines the allure of the Wilderness and Luxury while being tucked away in the foothills of the Himalayas and overlooking the magnificent Kosi River. This riverside resorts in Jim Corbett gives you 58 modern villas with shared/private garden areas spread out over 8.25 acres of mango groves, close to the Bijrani safari gate of Jim Corbett National Park.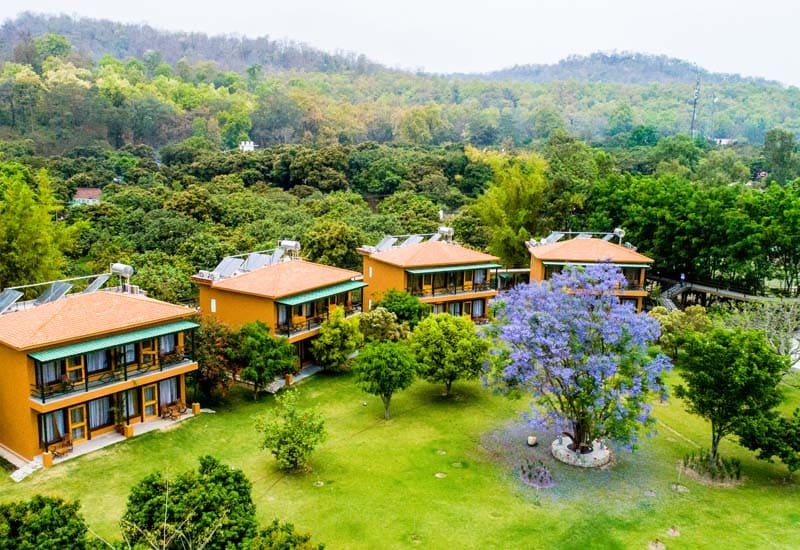 The Tarangi Resort and Spa, which sits on the edge of a wildlife sanctuary and offers views of the Kosi River and the Sitabani Forest, is a peaceful haven for nature enthusiasts, photographers, couples, and families. As one of most sought after riverside resorts in Jim Corbett, this one has over 105 opulent rooms, numerous pools and activities, restaurants, and its very own Lord of the Drinks!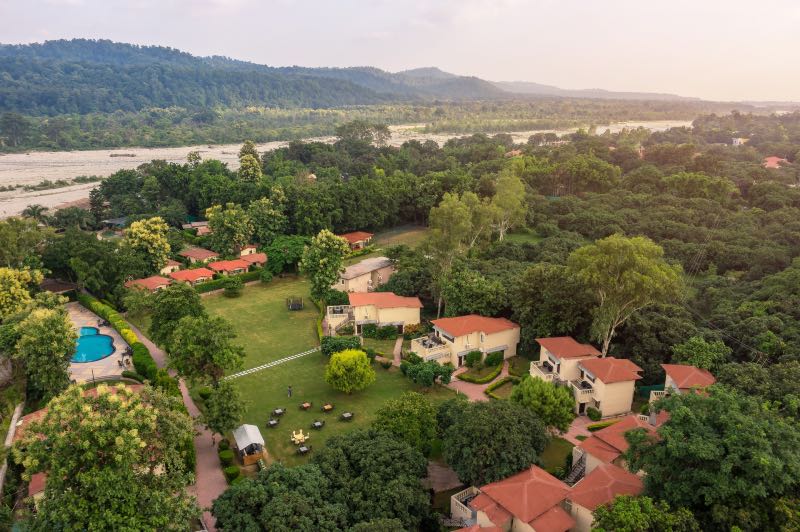 In Uttarakhand, at the heart of the Jim Corbett National Park, the Manu Maharani Resort & Spa is the perfect place to spend a tranquil and restorative vacation amidst nature. One of the most popular riverside resorts in Jim Corbett, this haven of peace is welcomed by the sound of birds chirping, a fresh wind, majestic view of Sitabani forest and the trickling Kosi river.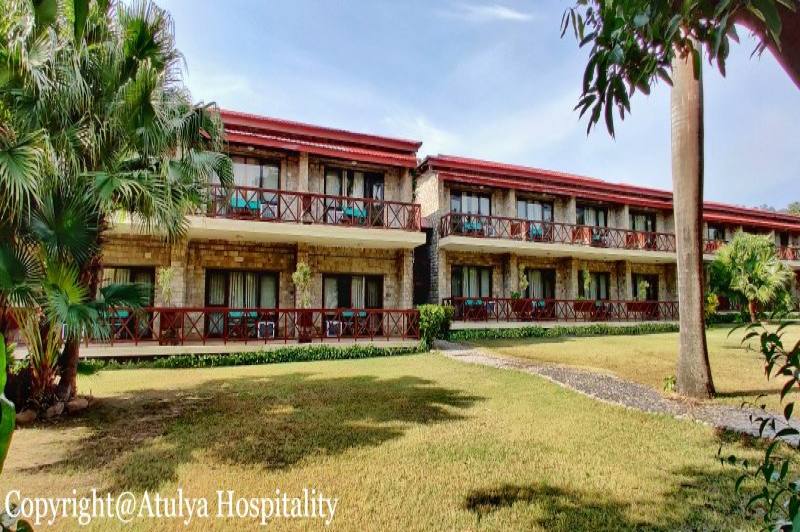 The world-famous Corbett National Park, India's first and best tiger reserve, is home to a magnificent nature resort of 22 acres, Infinity Resort. The Golghar, or "Round House," at Infinity Resort, one of Corbett's most enduring hotels, has come to symbolize lodge architecture in the area. The Golghar continues to stand tall and proud 28 years later, welcoming more visitors into its warm, traditional interior. This riverside resort in Jim Corbett, tucked away among the mountain ranges, beautiful green woods, and the Kosi River in the foothills of the Himalayas, is a sure way to take your breath away.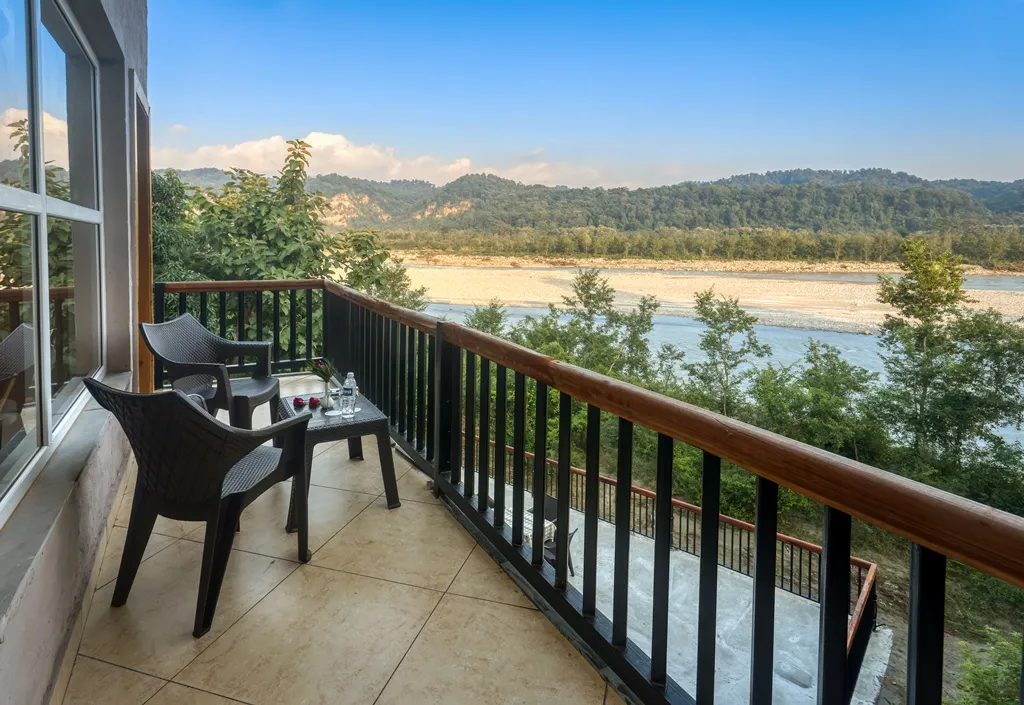 The River Edge Corbett is a classic Corbett experience that celebrates the richness, fauna, and history of the jungle via wonderfully hand-crafted moments and services. It is located directly on the bank of the Kosi river. The quaint property is a tranquil refuge with private river views and the ideal riverside resort in Jim Corbett to create magical moments with your friends and families.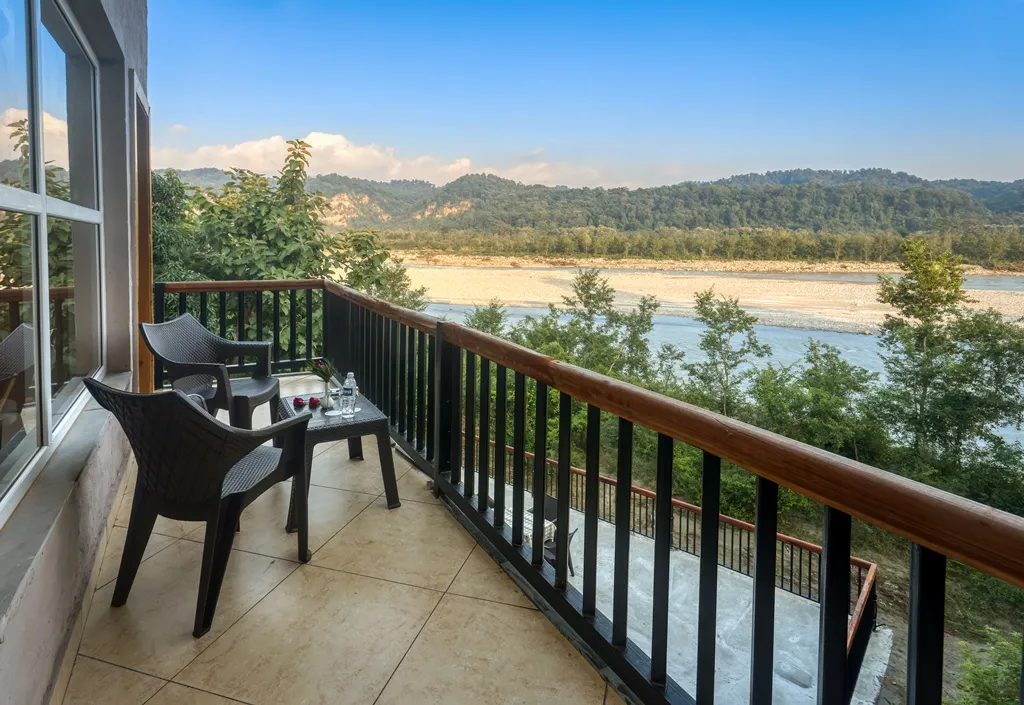 Lemon Tree Premier, Corbett, an exquisite riverside resort in Jim Corbett, located on the banks of River Ramganga, tucked away amid tall Sal trees. This 5 acre manicured refuge, which is conveniently situated at a short distance from Jim Corbett National Park's Durga Devi and Dhangarhi (Dhikala) gates, offers enticing views of the Shivalik foothills of the Himalayan sub-belt and the lush forest that surrounds it.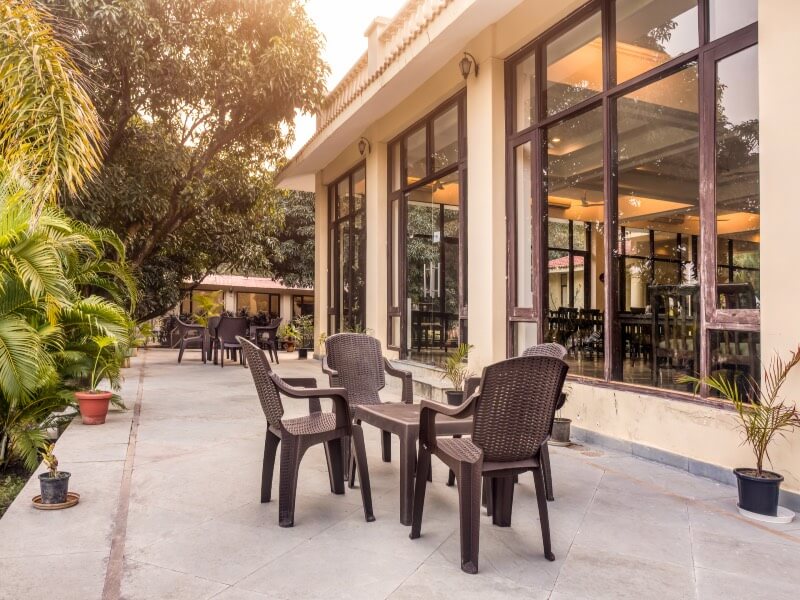 A spectacular riverside resort in Jim Corbett, Nadiya Parao Resort is located next to the gorgeous Kosi River. This resort offers Jim Corbett's wilderness adventure in a setting of luxury and comfort. Nadiya Parao is a great vacation spot for people of all ages because it has amenities including swimming pools, activity and play zones, seasonal safaris, and open grounds.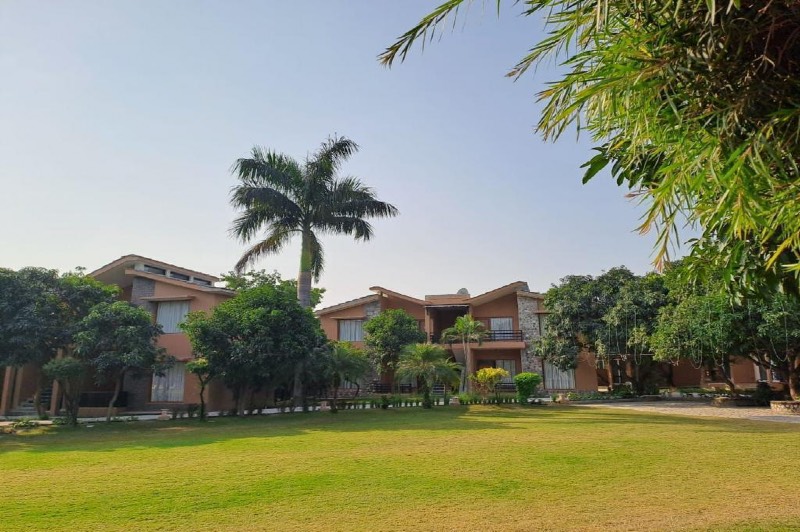 The Corbett Aamod Resort & Spa, a riverside resort in Jim Corbett, situated over more than 11 acres of beautiful greenery by the Kosi river, offers several amenities in addition to its breath-taking vista. The resort is surrounded by lush forest, which is home to thousands of plants and animals, including elephants, deer, leopards, and the fabled Bengal tigers in addition to hundreds of bird species. It is located in the Kumaon region on the slopes of the Mailani range.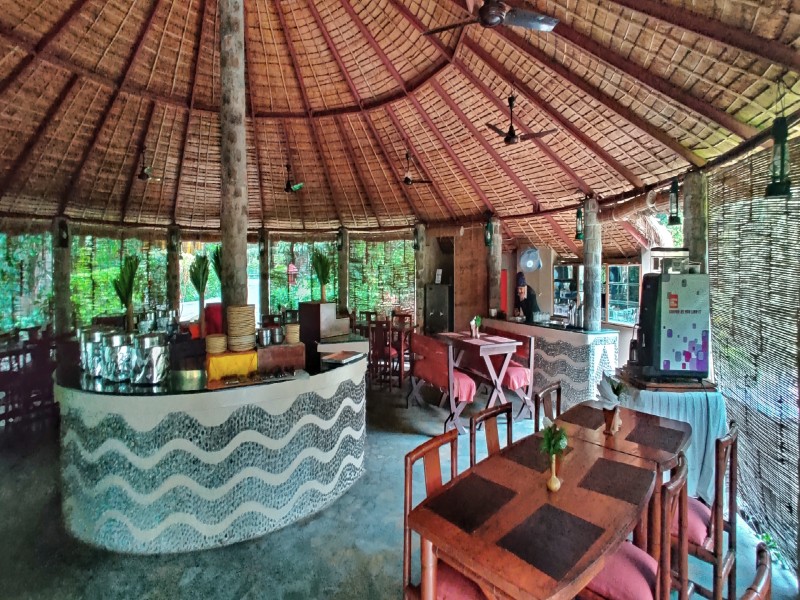 Tiger Camp is a well-wooded riverside resort in Jim Corbett with the distinct benefit of being conveniently located near River Kosi and the surrounding sloped forests — all delivering stunning views. In the domestic and international wildlife tourist markets, Tiger Camp has developed a reputation as a "value-for-money" resort over the past 15 years by providing excellent services at competitive pricing. Our knowledgeable on-staff naturalists manage jungle tours, bird walks, and deliver specialized lectures along with daily slide exhibitions and screenings of wildlife documentaries.
Purpose of Visit
Jim Corbett National Park, being just 6 Hours away from Delhi-NCR, serves as a leisure destination alongside being the hub of active jungle, dominated by Royal Bengal Tiger as the primary predator. This opens up avenues for Corbett National Park & its resorts in more than one way. Let us see how our choice of resort fulfills our purpose.
Jungle Centric Resorts of Jim Corbett – usually built with an intense landscaping, you can find jungle centric resorts in the density of Sal forest. These resorts offer a wild tryst with nature and welcome multitudes of chirping birds to fill the aura. These resorts are perfect for the ones carrying zoom lenses & a drive to experience the thrill of the jungle.
Riverside Resorts in Jim Corbett – There are 2 big rivers – Ramganga & Kosi rivers – channeling the energy of water through Corbett National Park. Rivers like these offer a spot of watering hole for the wild animals and are usually surrounded by lush green forest. Jim Corbett offers multiple riverside resorts along the banks of the treacherous Kosi & Crocodile & Alligator-filled Ramganga River. These riverside resorts in Jim Corbett offer luxury, touch of wilderness, great service & excellent view, put together in the ultimate Jim Corbett package. Also a great choice for Destination Wedding.
Leisure & Family Resorts – After the riverside resorts in Jim Corbett, the most demanded resort type falls under this category. Experiential in nature, these branded/single-unit boutique stay options offer a variety of experiences. During monsoons, when the seasonal river tributaries get activated, some of these resorts turn into the category of riverside resorts, and offer great deals & maximum experiences.
Budget Friendly & Creative Stay options – Other than the most sought after riverside resorts in Jim Corbett, leisure, family & wilderness resorts, there are some creative boutique stay options and homestays that offer pocket friendly deals & stories worth capturing.
So, how do you choose the right fit for you?
Let us help you break down your choices. Choosing a resort can depend on multiple factors. Let us analyze them one by one –
Understand your budget for the trip. You can find rooms in resorts starting as low as INR 4500 per night, up to INR 25000+ per night for 2 Adults. Weekends, Long Weekend & Festival dates are usually pricier than usual. You can save big if you are traveling with a big group. Get in touch with us if you require help in selecting your desired inclusions & budget.
If you are a regular to this area, and have collected all possible experiences of Corbett National Park, worry not! Atulya Hospitality guarantees a new flavor of Jim Corbett for every time you visit. For example, all Corbett lovers have, at least once, experienced what it feels like to be enveloped in luxury & scenic beauty of most popular riverside resorts in Jim Corbett, there is a high probability that you have stayed in one of the resorts built along the bank of majestic River Kosi. Change it up a little, add a temper of scenic forest drive, adventurous pathway to resort to find some of the best riverside resorts in Jim Corbett built along the bank of thrilling River Ramganga.
Riverside Resorts in Jim Corbett – Are they worth it?
The segment of wildlife tourism is considered to be a luxury in India. The true flavor of luxury & wilderness comes best with resorts that are insta-perfect & carry the essence of Jim Corbett National Park.
Snippet – More than 50% of Corbett lovers prefer Riverside Resorts in Jim Corbett! Know why..
Riverside resorts in Jim Corbett checks all the boxes of your wildest expectation, where it comes to service, or wilderness experiences
Riverside resorts in Jim Corbett offer stunning views of the Kosi & Ramganga River and the surrounding mountains. This natural beauty of Rivers & Dense Forest is one of the main reasons why people choose to stay at these resorts.
Wake up early or stay up late, and you might get a chance to see wilderness unbothered, collected at the banks of River Kosi & River Ramganga in their crepuscular activities. You might not get this in-resort experience that is exclusive to the riverside resorts in Jim Corbett. Every Resort has modern amenities & Swimming Pool.
Riverside resorts in Jim Corbett are typically located in secluded areas, or have ample space that puts them away from the hustle and bustle of city life. This provides guests with a peaceful and relaxing environment.
All the Resorts have Outdoor Swimming Pool, Recreational Activities, Children Activities, Indoor Games like Table Tennis, Pool Table (Additional Charge), Outdoor Games & Multi-Cuisine Restaurant.
Note – Please ensure that you make your Jim Corbett Safari Booking well in advance.