Uttarakhand
Famous for its own beauty with the existance of multiple lakes, hill stations, national parks & bird sancturaties.
Ever Wondered Why Uttarakhand Tourism Is So Popular Among Travellers: Here's Why
A go-to place for the city folks? Long weekend getaway (Uttarakhand Tour Packages) or a week-long workcation – Uttarakhand is any traveller's first choice. Situated in the mighty laps of the Himalayas, with several hidden gems – it's a place you fall in love with! Lush-green meadows, sheer blue skies enriched with history, beautiful trails to explore, and divine energy sums up Uttarakhand for you.
Uttarakhand Destinations
Why Uttarakhand?
The Devbhoomi (Land of Gods) Uttarakhand is an amalgamation of two regions: Garhwal and Kumaon. Both divisions are like two sides of the same coin – they differ in diversity, culture, and ethnicity, although the possibility of exploration brings them closer. If you're planning to visit this paradise anytime soon, make sure you take a look at this detailed travel guide curated for travellers like you.
From exotic wildlife at Jim Corbett National Park to being home to the most beautiful hill stations and Mall Road. The serene Ganga and a peaceful voyage to Badrinath to lift your spirits Uttarakhand quench the thirst of every wanderlust. From Naini Lake and adventurous treks to spiritual retreats, it has many tourism opportunities.
Sounds quite dreamlike, right? Well, this can be a real-life experience for you with our Uttarakhand tour packages.
When To Visit Uttarakhand?
There's no doubt Uttarakhand is a year-round destination with lots of popular destinations; every season has something to offer. Due to the diversity of topography, Uttarakhand remains accessible to tourists throughout the year. Our favourite time to visit is from October to March. During December, January, and February, some parts of Uttarakhand get blanketed by snow, turning it into a white wonderland.
Uttarakhand Tourism: Things to Do
Adventure: Seek Your Thrills
Something about mountains brings a fresh breath of thrill to the whole travelling experience. In Uttarakhand, you can expect adrenaline-inducing adventurous activities to fill your soul with a great experience. You can pick up anything from spending evenings on Mall Road and camping to paragliding. A rafting expedition at Rishikesh can be quite spine-chilling, and camping under the stars in the valleys of Jharipani or Dhanaulti will expose you to a life with nature. The state is ideal for adventure tourism: Tandem Paragliding in Mussoorie will leave you hanging to enjoy the aerial view. To overcome your fear, the best way is to indulge in Ziplining at Rishikesh. If it's an adventure that you seek, then these Uttarakhand tourist places will offer you a different experience. Winter sports lovers can be excited about Uttarakhand, especially Auli, one of the best skiing destinations in India.
Get Ready to Trek
The state of Uttarakhand offers an exciting exploration through various trekking trails. Roopkund, Lal Tibba, Valley of Flowers, Har Ki Dun, Auli treks, and Waterfall treks are a few options that you can opt for here. These are some of the interesting and picturesque treks in India. The enigmatic and surreal view you experience after an adventure trail makes it all worth it.
Whether hiking or trekking, the charm of Uttarakhand will mesmerize you; with various Uttarakhand tour packages, you can select the treks you want. These treks allow you to get up close with the local culture and be a part of the rural lifestyle. Indeed a unique way to feel closer to the roots of civilization as you walk the lanes of history. The journey and destination are both rewarding as they offer a majestic view and a chance to camp under the starry sky in solitude.
Tale of the Jungle
Imagine you are in the middle of the safari, holding your breath tight, and your eyes are in search. Pounding heartbeat as you closely search your surroundings through a pair of binoculars. You listen to the birds, and a gush of wind passes you. All your senses are heightened.
And, finally, after a long wait, you spot the big cat. Prancing through the lush green forest, crowned with its glory and pride, the big cat makes its way. This sightseeing is an opportunity that you don't want to miss at any cost. Spotting the majestic tiger will pull you closer to the wild. Apart from tigers, you can indulge in bird watching, and spot elephants, leopards, and black bears, through a jeep safari at Jim Corbett. The safari takes you on an enthralling journey of the dense forest as you unlock the secrets of the wild.
Rajaji National Park is a premier wildlife destination in Uttarakhand. Rajaji National Park offers visitors the chance to observe Royal Bengal Tigers, striped hyenas, Asiatic Elephants, Sloth Bears, and various species of birds in their natural habitats.
Note – Safaris remains closed in Rainy Season.
Spiritual Journey at the Adobe of Gods
Ready to taste nirvana at Devbhoomi? The state of Uttarakhand, a religious destination, is the origin of various mythological tales. The ground of the mighty Himalayas, the pious Ganga (Holy River) glistens through it, and the divine energy resides here. If you're searching for answers and to cleanse your aura, then Uttarakhand will offer you blessings and much-needed peace of mind. It's the land where you witness the confluence of several rivers. This fascinating place is dotted with prominent temples which are intricately carved and breathtaking in their appearance.
The celebration of Nanda Devi Mela and Raj Yatra demonstrates gratitude towards the goddess Nanda Devi, who bestows blessings. Kumaoni Holi is a unique variation of the traditional Hindu festival of Holi and is widely appreciated.
Uttarakhand is a revered destination for Hindus, with its Five Confluences (Panch Prayag) of Vishnu Prayag, Nanda Prayag, Karn Prayag, Dev Prayag and Rudra Prayag, which come together to form the River Ganga (Holy Site). The Panch Prayag is considered one of India's holiest places, second only to Allahabad, and is a source of immense spiritual blessing for devotees.
We all have heard about the Chardham Yatra. Char Dham Yatra is the most sacred and highly regarded in Hindu mythology. The Char Dham Yatra undertakes to visit the high-altitude shrines of pilgrimage sites of Badrinath Temple, Kedarnath Dham, Yamunotri, and Gangotri. So many devotees from everywhere in the world pay homage to all these religious places in an aspiration to seek blessings from the divine. The state houses the highest Gurudwara in the world, Hemkund Sahib, near the famous trek of Valley of Flowers. This gem of a place captures your soul in its snow-capped surroundings.
Note – All travellers intending to visit the Char Dham Shrines and Hemkund Sahib in Uttarakhand must register themselves and their vehicles in advance with the Uttarakhand Tourism Development Board. This is in process with the Government of Uttarakhand's travel policy.
Vibe at the Peppy Cafes
Uttarakhand is a food lover's paradise – we don't know what makes it unique, whether it's a Natural beauty or the chilling weather that makes even the most basic Maggi taste just out of the world. The state is witnessing a growing culture of cafes dotted along the trails of famous Uttarakhand tourist destinations.
So, are you ready to roll in the land of extremes?
Indulging in Uttarakhand tourism can get you lost in the quiet wilderness of the Himalayas or the tranquillity of scenic beauty. Whatever your choice, the state offers every shade of adventure!
Check Weather Forecast before travelling, especially in Monsoon.
Connectivity: In Uttarakhand, the railway stations at Rishikesh, Haldwani, Haridwar, and Dehradun provide links to many major cities, nearby cities and towns nationwide.
Why Book With Us?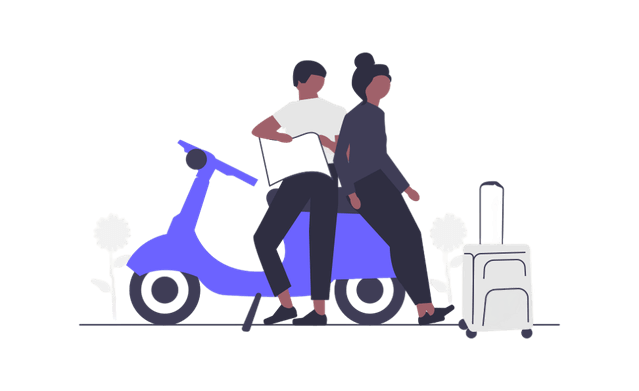 01.
24 x 7 Assistance
We attend your query and assist you 24*7
02.
Best Destination Knowledge
We have a team having more then 25 Yrs of Experience.
03.
Ethical Working Manner
We work very ethically & never overcharge for anything.
04.
We Deliver, What We Commit
We never overcommit, but if we do then we fulfil our commitment.